Every cat needs a way to sharpen and sharpen its claws. The need to scratch is innate to the cat. It is one of the primal instincts when cats lived in the wild and had to hunt and climb by themselves. For this they needed their claws. At the same time, scratching marked the territory, because a cat secretes scents when scratching, which signal to conspecifics who owns this territory. Today's house tigers have few opportunities to sharpen their claws. Only the scratching post offers a refuge, where the cat can live out its urge intensively without causing damage. Who does not want to set up a scratching post, must expect that the cat chooses a piece of furniture or the wallpaper for scratching.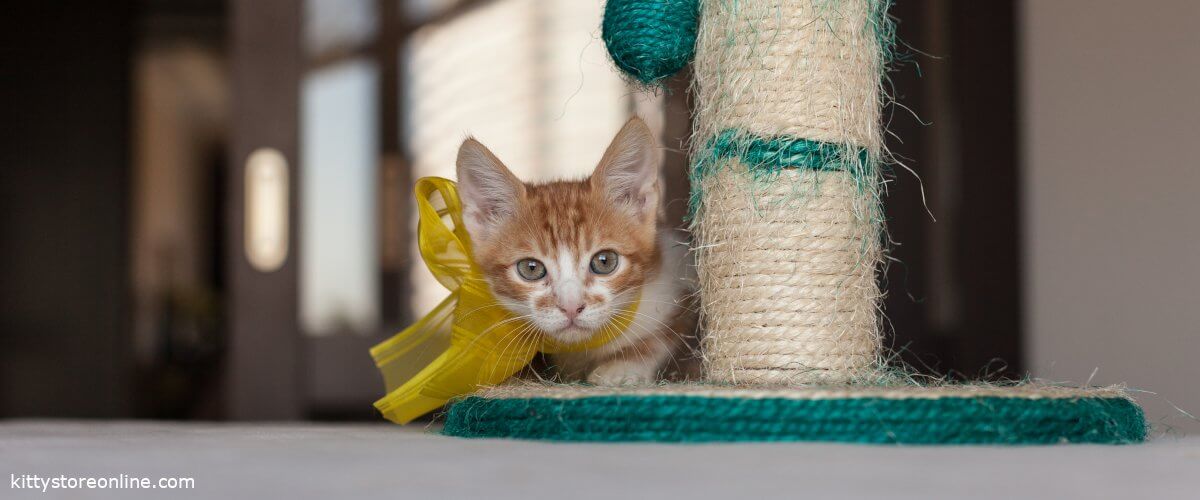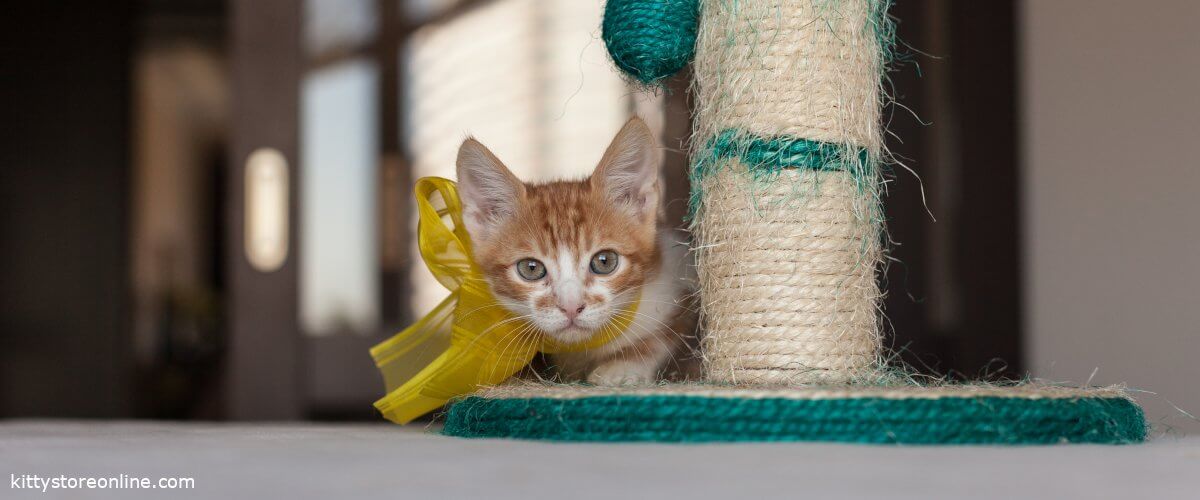 What should a cat tree be made of?
A cat scratching post should be a compromise of your cat's needs and your own ideas. An XXL cat tree with scratching, climbing, lying and hiding possibilities for your cat is of no use if you cannot move around in your living room. In small apartments, cats are also satisfied with a scratching board or scratching cardboard in their favorite place and with an empty cardboard box as a hiding place, if the scratching device is properly placed. After all, cats love to have an overview of what's going on in the room. Although they are basically loners, they like to stay in company.
If you buy a cat tree cheap, then you usually get no more simple scratching post, but a cat tree with cat possibilities and different levels for climbing, playing and hiding: a piece of furniture just for your cat. One cave as a hiding place per cat is enough. On the cat tree, prefer surfaces made of the plant fiber sisal. Some scratching posts feature surfaces made of wood and wickerwork made of water hyacinth or banana leaf. These are also suitable, provided that the scratching surface begins close to the ground and extends to the first viewing platform at the height of 80 cm to 100 cm. Cats like to stretch and stretch while scratching. Therefore, the first level should not be placed too low. Make sure that the scratching post is stable, so that the cat is not frightened when things get a bit more turbulent during play and the scratching post suddenly wobbles. A large Nobby cat tree is braced as a cat tree ceiling tensioner between the ceiling and floor. He stands like the Trixie cat tree Filippo then bombproof. For a little more money you get a cat tree for heavy cats with removable cushion and pillows. If necessary, the cushions can be washed in the washing machine without any problems. Make sure that the posters are not too soft, so that they keep their shape for a long time, and the fabric on the seats is only glued and not attached with staples. The latter pose a possibility of injury to the velvet paws. If you have two cats, you should buy two scratching posts, so that each cat has its own refuge. A cat tree stable for several cats can reach dimensions of 175x100x118 cm. Even with a scratching post large or small, there are models made of certified untreated wood from sustainable forestry and with eco-textiles according to Oeko-Tex Standard 100. At some scratching posts toys are integrated. On others, there is the option to attach your own cat toys. Experts recommend at least two toys on a scratching post.
Best Cat Tree
Buy a cat tree for big cats
Buy the cat tree according to the size of your cat. Large and heavy cat breeds that need a large and sturdy scratching post include Maine Coon cats as the largest domestic cats in the world, Savannah cats, Norwegian wild cats, as well as Birman, Radoll, Chausi and Persian cats. Large heavy cats require a larger lying surface than small cats and thicker trunks on the cat tree favorable, which can withstand their weight and provide more stability. This should be an important purchase criterion for a cat tree stable in addition to the height of the cat tree. The distance between the individual floors can be larger, as in an Aione cat tree, and also a cave must be more spacious than in a small cat tree. In a cat tree for large cats XL, the materials used are more robust and the base plate is heavier, so that the cat tree does not tip over. A cat tree large like a Feandra cat tree or like a Fressnapf cat tree has a height of 100 to 160 cm or even over 160 cm. He gets as a stable cat tree for large cats several sleeping and resting options as a basket, cave or hammock, several levels and several berths. The berths for the velvet paw can be covered with plush. If the base is too small for space saving, a scratching post XL is additionally attached to the wall so that it does not wobble. For cat owners, a Trixie cat tree large, ceiling-high or wall-mounted for large and heavy cats is highly rated.A Trixie cat tree is equipped with a variety of features and includes:
Caves
Padded lounger plates
Laying hollows and hanging hollows
Turning cushions
Scratching surfaces
You can find a gray cat tree and a white cat tree with plywood boxes and a beige cat tree with plush at Trixie.
Buy a small cat tree
A small cat tree for small cat breeds such as Singapura, Ceylon, Munchkin, Bombay or Devon Rex and for kittens is more likely to find a place in the home than a cat tree for large cats. A scratching post for small cats does not take up as much space. The cat tree for a small apartment can have up to two viewing platforms and a cave, or a raised round resting place with a fixed edge, a plush toy and a scratching area on the trunk. You can find a small cat tree up to 60 cm, 80 cm or 100 cm high. Most often, a cat tree small is purchased for kittens and small cats under a height of 80 cm, because kittens first explore areas close to the ground before they start climbing. They still have to learn how to get back down from clear heights without human rescue. It is different with adult cats. They are happy to have as many climbing and balancing opportunities as possible on the cat tree. Older cats need lots of steps on their cat tree so they put less stress on their joints when jumping. Some elderly seniors are already satisfied with a scratching board. A scratching board with a sleeping basket on a sisal trunk and a base plate or even just a scratching board as a scratching wave with a hiding place under the wave, a scratching garbage can with a cave or a play tree with a scratching option and toys on a rubber band are popular with cats as an employment option.
How does a cat tree become stable?
A stable cat tree is a big topic among cat owners. Most of the time, stability has to do with the base plate. When buying a cat tree, look for a base plate made of solid wood and thick scratching posts with a trunk diameter of at least 11 cm. They contribute to the stability of the cat tree. For large cats, the scratching posts can be threaded PVC and wrapped with natural sisal or made of a solid birch wood tree trunk. A solid wood cat tree with proper anchoring is the most stable. Another option is to fix the cat tree to the wall in several places. The same applies to a ceiling-high cat tree, so that it stands stably. Stability is also ensured by a high weight. This is the case, for example, with a cat tree made of natural wood, which fits through its natural look to many furnishing styles. For a scratch-resistant scratching post made of natural wood in a rustic look, you will have to dig deeper into your pocket.
Which material for the cat tree?
Sisal and plush are the standard materials for a cat tree for large cats and a cat tree small. The natural fiber sisal is great for sharpening the claws. Differences exist when buying in quality. In a cheap cat tree, the sisal is often only attached to cardboard. The durability of the product is then more limited than with a tree trunk wrapped with sisal.
Banana Leaf and water hyacinth are distinguished by their braided appearance. However, the natural material wears out more quickly. Not as a Banana Leaf cat tree, but as a seat or basket, however, it is an alternative to plush, because the surface is more permeable to air due to the braiding and is easier to clean.
Wood remains the first choice even for a modern cat tree and a cat tree ceiling tensioner. However, it is relatively expensive. But in return, you get a particularly stable cat tree that lasts for several years. In your search, you will have to decide between a cat tree natural wood, solid wood, real wood or with a wooden trunk. Solid wood is another name for a tree trunk. The complete cat tree can also be made of wood. Natural wood and real wood are used to create hiding places and lying areas. Often, a solid wood base is used for more stability. While sisal, which is placed around rolls of hardboard, is an affordable all-round cat tree, natural wood is almost indestructible and more expensive. The center of gravity of the cat playground is in the middle of a wooden cat tree, so the real wood cat tree will not fall over. A tree trunk cat tree is inherently heavier, so it is suitable for large cats. Wood is a natural material with which cats feel comfortable. It can withstand high loads and convinces with its appearance.
Do I need a design cat tree?
A design cat tree has a fancy shape. He should be high-quality and thanks to modern design an eye-catcher in the living room. Who is looking for something special, comes to a Designer scratching post not past. Not only its shape is exclusive, but also the equipment. Cats find in a scratching post design favorably diverse activity possibilities to hide, sleep and climb. The design can be, as in the well-known KletterLetter cat tree from the lion's den, quite unusually based on numbers and letters and has not much in common with a conventional cat scratching post. For example, the Cat Castel cat tree has many caves and climbing opportunities, and the CanadianCat Company cat tree is reminiscent of the Winter Olympics in Montreal. It is not obvious at first glance that a design cat tree is a cat tree modern. Flambéed wood (flamed) makes a designer cat tree brown or black a jewel in the living room. A design cat barrel resembles a stool at first glance. The scratching board made of corrugated cardboard looks like a normal storage option and the cat cube may be scratched all around. As top brands for a design cat tree are Canadian Company cat tree, Natural Paradise cat tree, Vesper, Kerbl cat tree, but also the Trixie cat tree Cat Tower or the Tectake cat tree known.
Cat Tree Outdoor
A weatherproof outdoor cat tree can be found, for example, as Karlie cat tree. The manufacturer processes weatherproof polyrattan and plastic sisal. The base plate of the Karlie cat tree has rubber feet, so that the water does not accumulate. For a cat tree balcony, which is not completely unprotected, the seating and lying areas can be covered with quick-drying grass carpet. Solid wood is impregnated for the trunks. At least for an outdoor cat tree, cushions and covers must be removable or made of outdoor awning fabric.
Build your own DIY cat tree
Building a scratching post for cats yourself has several advantages. You customize the cat tree DIY to fit your living conditions and the age (kitten, adult, senior) of your cat. Every cat tree DIY is unique and you do not have to buy a cat tree.
Build your own cat tree from a tree trunk
You will need a tree trunk with some branch forks. Ask for it from a neighbor who has cut down trees in his yard or a forest owner, or find a piece of driftwood on a riverbank. Choose the length of the tree trunk according to the height of the room where the cat tree will later be placed. Then debark the log and let it dry. The lower end of the tree trunk must be sawed off as straight as possible as a stand. Plan as a stand a wooden plate, which you attach with screws to the tree trunk. The wooden plate alone is not enough. For a stable cat tree, it is best to create a concrete base. As a mold can serve an old water bucket or a discarded plastic bowl, which you place on a flat surface, before you anchor the tree trunk with base plate in it and fill the mold with concrete. Smooth out the concrete so that no voids form and allow the mold to harden according to the instructions. Then remove the mold and grind the edges of the concrete smooth.
Now saw off the branches at the branch forks so that the viewing platforms can be attached to them. If they are close to the trunk, you need to cut out appropriate cutouts from the circles. To do this, make templates from cardboard, which you transfer to the wooden panels and then cut out with a jigsaw. Deburr and sand all the wheels, as on the trunk of the cat tree DIY. Mount the resulting wooden circles to the branch ends with two screws each. If you still want to pad the platforms, then cut out circles of foam using the template. This can best be attached to the wood with spray adhesive. Stretch the chosen fabric or faux fur over the foam and attach the fabric to the underside of the viewing platform. Do not forget to wrap the trunk up to a height of about 80 cm as a scratching area with a sisal rope. As a sleeping place, a ready-bought woven basket comes into question.
Build your own outdoor cat tree
For an outdoor cat tree DIY build yourself, you may get creative. You will need mainly weatherproof materials: wooden boards, a wooden trunk, plywood boxes, Teflon, plastic, polyrattan. Plush is not suitable as a material, because it magically attracts dust and dries slowly. Wood you can apply a protective glaze against soaking. Teflon and plastics do not need extra coating. There are no limits to the shape, size and height when doing it yourself. Proceed in the construction of the outdoor cat tree similar to the DIY cat tree for indoors, only that you plan a weatherproof cat tree for outdoors. Build cat tree yourself which tree trunk? Hard wood is best suited. It lasts the longest when sharpening claws. Birch, beech and oak, as well as the fruit tree varieties apple, cherry and plum are suitable for a wooden scratching post build yourself.
Which cat tree is the best?
Which cat tree do cat owners buy the most? These include the Trixie cat tree Juana, the Trixie cat tree XXL and the Trixis cat tree Filipo. , but also the Feandra cat tree XXL. You can find a cat tree cheap as Fressnapf cat tree, Zooplus cat tree, as Aione cat tree or Nobby cat tree. A Petfun cat tree is always made of solid wood and natural materials and is handmade. For Maine Coon cats you need an XXL cat tree, maybe as Petrebels cat tree, Happypet cat tree or as RHR Quality cat tree for big cats. A feeder cat tree performs just as well as a food bowl cat tree.
The scratching post
Is a scratching post an alternative to a cat tree?
A scratching board can be used where there is no room for a cat tree. There are three different types of scratching boards to choose from: a scratching board for the wall, a scratching board and a scratching mat. You can buy all three of these scratching opportunities for cats much cheaper than a scratching post. However, the price of a scratching board made of real wood can be over $100. A normal scratching board or scratching mat you buy cheap for $10 to $12. Medium-sized versions cost between $20 and $65. If the cat is an outdoor walker, a scratching board or a scratching post will suffice instead of a scratching post. Stubentiger need more employment possibilities than free cats. Therefore, here is a scratching post with several floors, play options, hiding places and sleeping cave for better than a simple scratching board.
Different headings
The scratching board for the wall is attached to the wall. This allows the cat to stretch at the same time while sharpening its claws. Integrated balls or other cat toys are to awaken the hunting instinct of the cat.
The scratching board, on the other hand, is simply placed on the floor. It does not need to be installed separately. From its shape, a scratching pad is either rectangular, wavy or curved. The cat can use a large scratching pad additionally as a lying surface.
The scratching mat is also placed on the floor. The scratching surface is made of sisal. Often a toy is integrated to make the cat curious for the use of the scratching mat. Around the scratching surface is a border made of plush.
Scratchboard materials
The most common material for the scratching cardboard is sisal. This is glued to the cardboard. Cardboard, also gladly from recycled material, can be made into the most unusual shapes as scratching board. In a scratching board made of real wood, the scratching surface is wrapped with sisal. The edge of wood remains free.
How can I get my cat used to the scratching post?
If the scratching pad is on the floor, they can spread a few treats on the scratching pad to attract the cat. Another attractant is catnip, which is already added by some manufacturers. Catnip attracts cats and is even said to produce a euphoric effect in cats.
Make your own scratchboard DIY
For a custom look to your scratchboard, you will need old cardboard, tape, sisal rope and a knife to cut it to size. Cut out the shape you want from the cardboard. Connect multi-part shapes with the tape and wrap them with sisal at the end. Attach the scratching board homemade to the wall with double-sided tape or place it on the floor.